Thursday, February 9, 2012 at 9:00PM
Arcana Comics are launching ArcanaBenderspink Comics. The books will be published under the Arcana title. Basically they're pulling a Radical--Lets make comics so we can turn them into movies and televisions shows! Here the catch numb nuts, no one gives a turd about your books and thus no one will give turd about your talkies.
Here's a line up shit you won't be buying.
Atlantis: One hundred and fifty years after a plague has ravaged Earth and the wealthy and privileged have retreated to live in a bio-dome under the ocean, their resources run out and they have to return to the surface where they're met by a bitter resistance from the ancestors of those they left above ground to die.
Foretold: A young man is brought to the future to fight the most powerful being who has taken over the world 30 years later – himself.
Target Earth: A lone scientist believes the warning from an imprisoned alien, who declares an invasion coming from a more powerful group of aliens. He frees the alien and they end up on the run from the government and the advance guard of hostile aliens as they try to save our planet.
Bishop: When a government operative goes undercover to infiltrate a secret illuminati type group, he begins to realize that the people he's been sent to take down may actually be the good guys.
Kill On Sight: When a group of professional thieves steal 30 million dollars from a covert, black-ops CIA program the program responds by sending a team to NYC to kill the thieves and retrieve the money.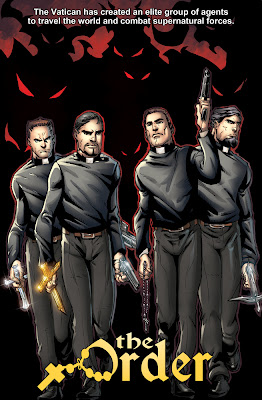 The Order: The Vatican has created an elite group of agents to travel the world and combat supernatural forces.
War Of The Gods: At the dawn of humanity, a multitude of gods from Roman, Greek, Egyptian, Nordic, Hindu, Chinese, and Aztec lore do battle against each other for control of the world.
Untouchable: In 2012 Al Capone's great nephew has become a cop, trying to make right some of the wrong done by his family in the past, and has to track down Chicago's most notorious criminal, the great-grandson of Elliot Ness.
There's more books on the list but who cares--unless Arcana whats to kick them to us for free, then I'm all about these fucking awesome titles.
Source: Deadline